This week, we are reposting a piece from Dave Evans on the recent RISE conference. Dr. Evans' original post can be found here.
Last week, Research on Improving Education Systems (RISE) held its annual conference, which economist Karthik Muralidharan has dubbed "the top conference on education in developing countries in the world." Over the course of two days, researchers presented over 30 new findings on education systems. If you weren't able to attend, you can find the full line-up and livestreams here. If you want a quick taste of this year's research highlights, read on!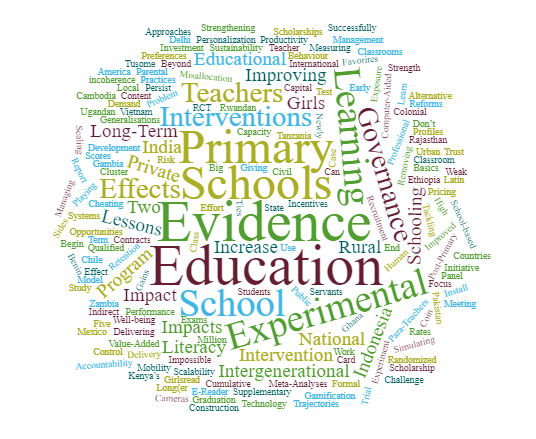 A word cloud of paper titles from the 2019 RISE conference
Learning inequalities and social mobility
Motivation, management, and incentives for teachers
Inside the classroom
School accountability by parents and communities
Eight years after a school report card intervention in Pakistan, improvements in test scores and price declines in private schools are maintained, together suggesting large improvements in productivity in the education market (Das, with Andrabi and Khwaja; video).
In Uganda, a scorecard about the quality of schools increased student learning, but only when communities had input into what would be monitored on the scorecard. New work tries to understand whether this would work administered at the district level (Kabay; video).
What parents do
Lots of people pay for after-school tutoring, but in the slums of Delhi, offering prices to different families shows that paying a higher price leads to higher attendance and lower prices reduce dropout rates (from tutoring). There is "no evidence that tutoring impact average test scores" (Mukherjee, with Berry; video).
Do parents invest in their children's education in order to maximize household income, or do they seek to reduce inequality across their children? A lab-in-the-field experiment in Malawi shows that parents care about both, but that they sacrifice a significant proportion of income to avoid inequality (Jagnani, with Berry & Dizon-Ross; video).
Reducing the cost of schooling
A scholarship program aimed at improving high school graduation rates in Mexico had no impact. The program was mistargeted, largely missing the poorest students. But many eligible students also lack the minimum skills to finish high school. As de Hoyos said in the presentation, "If kids don't know how to add, and you want them to do calculus, you can give them a million US dollars & they still won't be able to do calculus" (de Hoyos, with Attanasio & Costas-Meghir; video).
Merit-based or needs-based scholarships? Nine years after the scholarships were distributed in Cambodia, beneficiaries of both had more schooling, but only beneficiaries of merit scholarships had higher learning or well-being (Barrera-Osorio, with de Barros & Filmer; video).
Innovating at the system level
If we want education systems to align around learning, then the idea that providing quality education is the responsibility of the government needs to shift to all actors in the system. To do that, we need to create space for innovation throughout the system. Levy illustrates this with examples from South Africa (Levy; video).
Trust and control reinforce each other in South Africa's education system. Whether that is positive or negative depends on how the accountability is implemented: Is it followed up with support? Is it meaningful for schools? (Ehren, with Paterson & Baxter; video)
In Kenya, an effective pilot to improve literacy was scaled up nationally, retaining the essential program inputs—classroom visits with feedback to teachers, updated textbooks, detailed learning guides—and delivering improved early grade literacy throughout the country. (Piper and DeStefano, with Kinyanjui and Ong'ele; video).
Measurement and methods
Beyond research
In addition to the research presentations, the conference included insightful policy discussions.
Kwabena Tandoh, Deputy Director General of Quality & Access for the Ghana Education Service discussed "Hard Choices: From Long Lists to Prioritised Action" with Karen Mundy (video).
Laura Savage of the UK's Department for International Development led a discussion with Pinelopi Goldberg (World Bank), Raphaelle Martinez (Global Partnerships for Education), and Bronwen Magrath (Oxford University) on Big Efforts in Education.
RELATED TOPICS:
DISCLAIMER
CGD blog posts reflect the views of the authors drawing on prior research and experience in their areas of expertise. CGD does not take institutional positions.